Bereichsnavigation
Holdings and focal points
The focus of our collecting and research activities is aligned with the projects conducted at the Institute on music history, music theory, instrumentology, and systematic musicology.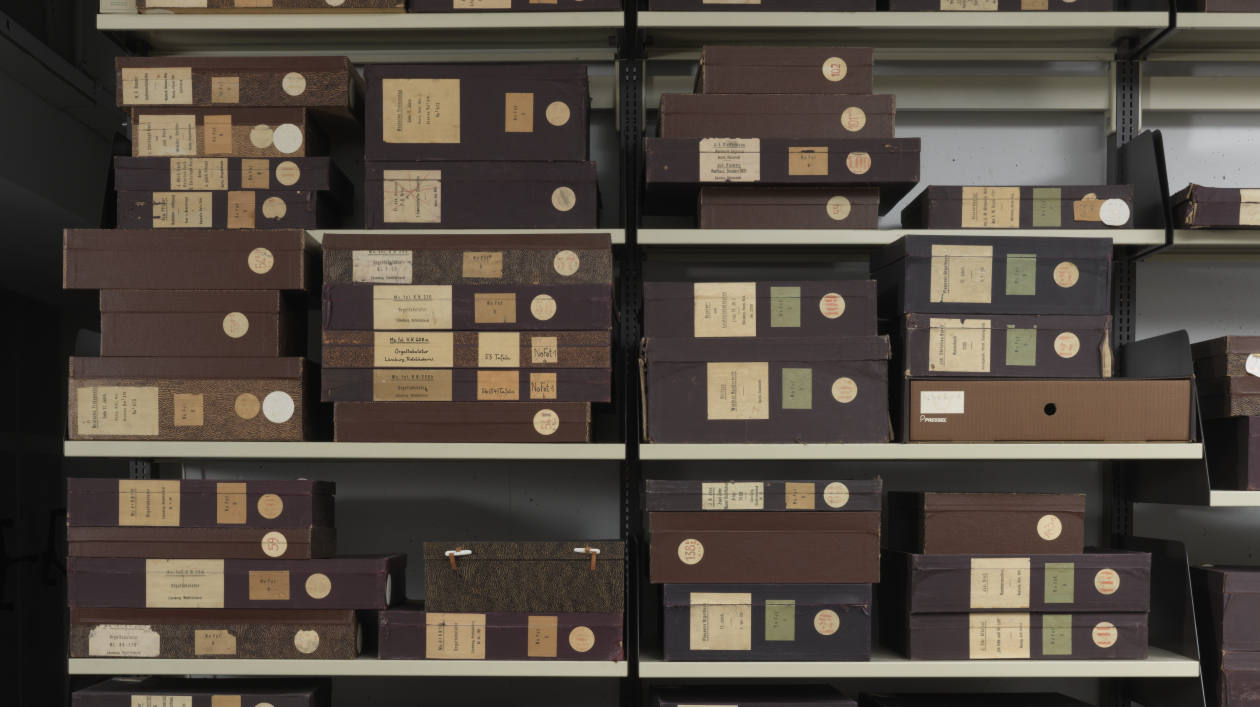 Books and magazines
The SIMPK library contains approximately 60,000 volumes. It also contains holdings from its predecessor institutions, including the Royal Collection of Early Musical Instruments, Instrument Collection of the State University of Music, Royal Prussian Folk Song Commission, Commission for the Folk Song Book, Music Archive of German Folk Songs, Archive of German Folk Songs, Princely Institute for Musicological Research at Bückeburg, State Institute for German Music Research, and Institute for Music Research (Greater) Berlin. A large number of volumes is accessible in the open shelves area of the reading room. Volumes from the non-circulating holdings can be requested for viewing without long waiting times. We hold over 200 current periodicals in stock.
The music library of the music critic and writer Hans Heinz Stuckenschmidt (1901-1988) forms a separate collection, consisting mainly of music literature, sheet music and vinyl records of 20th century music.
Manuscripts and bequests
The library holdings include more than 40 estates and collections, such as August Wilhelm Bach, Imogen Fellinger, Oskar Fleischer, Herbert Graf, August Eduard Grell, Helmut Haack, Bernhard Irrgang, Ernst Jedliczka, Joseph Joachim, Raoul Koczalski, Hermann Matzke, Joachim Matzner, Werner Menke, Musikinstrumentenfabrik Moritz, Josef Rouschil, Hermann Schmidt, Max Schneider, Rudolf Schwartz, Max Seiffert, Alfred Sittard, Fritz Stein, Kurt Strickert, Carl Maria von Weber (Letters to Gottfried Weber), Ludwig Wüllner (including the cryptographic bequests of Franz Wüllner and Anna Wüllner-Hoffmann)), as well as the SIM Historical Archive, which contains documents on the history of the SIMPK and its predecessor institutions. Our manuscripts and bequests are listed in the KalliopeUnion catalog.
Photocopy collection
The predecessor institutions of the SIMPK established a collection of photographic reproductions in 1917. Produced in a special workshop, these reproductions were to make as many musical sources as possible available for memorial editions of German music. The endeavor was initiated by Max Seiffert, who began to have reproductions of musical source material from the holdings of the Brussels Conservatoire made during the First World War. The photocopy collection was taken, together with other holdings, to the Soviet Union in the aftermath of World War II and returned to East Berlin to the German State Library (Unter den Linden) in the late 1950s. After reunification in 1990, the collection was returned to the State Institute for Music Research. Due to the turmoil of war and multiple relocations, the collection is no longer preserved in its entirety and now counts only slightly more than 220 titles. Of particular interest are photographic reproductions of sources that were lost during World War II, such as the Plauener Orgelbuch.
Audio recordings collection
The Institute owns approximately 8,800 black discs (long-playing records and shellac records), 1,500 compact discs, 175 perforated discs, 3,000 music rolls, 580 phonograph rolls, and 1,600 magnetic tapes, primarily containing recordings for instrumental and interpretive documentation and research. It is a reference collection for research purposes.
Bibliography of Music Literature (BMS)
The Bibliography of Music Literature (Bibliographie des Musikschrifttums) (BMS) was established in 1936 by our predecessor institution, the State Institute for German Music Research (Staatliches Institut für Deutsche Musikforschung) in Berlin, with the aim of maintaining a current list of literature on music published all over the world. It continued the bibliographic overviews of the Jahrbuch der Musikbibliothek Peters. more
Archive of Concert Life
The project "Archive of Concert Life" (Archiv des Konzertlebens) is dedicated to the preservation, digitization, and analytical collation of a broad spectrum of historical records of concert life, such as concert programs, reviews, and relevant sound recordings of classical Western art music.
History of the State Institute for Music Research and its Predecessor Institutions
The project "History of the State Institute for Music Research and its Predecessor Institutions" was funded by the Federal Commissioner for Culture and the Media (BKM) and served to create a documentary foundation of the history of the Institute from 1888 to 1945.
Historical provenance of our holdings
All stamps shown here are valid. The State Institute for Music Research of the Prussian Cultural Heritage Foundation claims ownership of all materials bearing its marks of historical ownership.

Furst: Bukb: Kapelle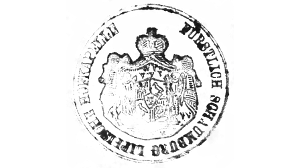 Fürstlich Schaumburg Lippische Hofkapelle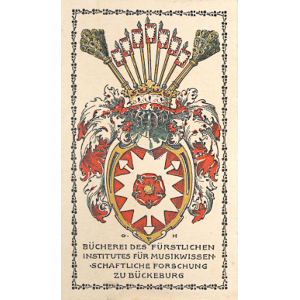 Bücherei des Fürstlichen Instituts für musikwissenschaftliche Forschung zu Bückeburg

Verwaltung der Königl. Sammlung alter Musikinstrumente.

Aus der staatl. Sammlung alter Musikinstrumente.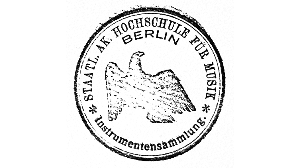 Staatl. ak. Hochschule für Musik Berlin - Instrumentensammlung.

Kommission für das Volksliederbuch

Staatl. Institut f. Dtsch. Musikforschung Berlin

Institut für Musikforschung Groß-Berlin